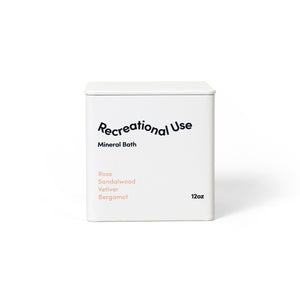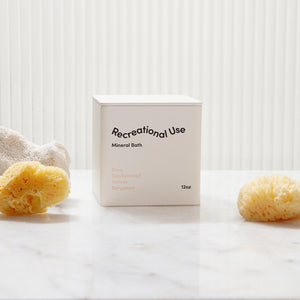 Mineral Bath - Rose & Vetiver
DESCRIPTION
Indulge in the ultimate bath experience, with our 3-in-1 Mineral Bath Soak. This replenishing soak provides a dose of salt, essential oil, and bubbles all in one easy-to-use product.
This blend combines the soothing essential oils of Rose and Vetiver to heal and replenish both your skin and your soul.
Size: 12 oz / 340g 
HOW TO USE
Add 3-4 scoops directly under warm running water. 
Allow the tub to fill with our salt, oil and bubble blend. 
Let your body soak in the natural mineral healing properties. 
Enjoy. 
KEY BENEFITS
The combination of Epsom Salt and Pink Himalayan Salt infuse your bath with minerals that help relieve stress, ease achy muscles, and detoxify the body.
Jojoba Oil is deeply hydrating and nourishing for the skin, and is full of antioxidants and nutrients like Vitamins E and B.
The intoxicating scent of our custom-blended Essential Oils will fill your entire bathroom, transporting you into a state of relaxation and calm. 
Our bubble formula is derived from all-natural coconut and palm oils, and is free of Sodium Lauryl Sulfate (SLS) and other skin irritants. 
All products are cruelty free and non toxic, formulated without parabens, SLS, phthalates, and artificial fragrances or colors.
INGREDIENTS
Magnesium Sulfate (Epsom Salt), Sodium Chloride (Pink Himalayan Salt), Sodium Lauryl Sulfoacetate (SLSA), Simmondsia Chinensis (Jojoba) Seed Oil*, Vetiveria Aizanoides (Vetiver) Root Oil, Santalum Album (Sandalwood) Oil, Citrus Bergamia (Bergamot) Fruit Oil*, Rosa Damascena (Rose Absolute) Essential Oil. 
*indicates certified organic